- Atherington Argus -
.
The Free News Publication of Atherington, Devon, England, UK.
Featuring People, Happenings, Parish Council News, W.I., Church News, What's On and Forthcoming Events.
No annoying adverts - Just news!

The Argus is:-

Free to residents in the Parish of Atherington.
Published at the beginning of each month.

A not for profit community news publication produced entirely in house.
Financed by voluntary contributions.


Distributed to every house in the village.
Copies can be collected from the Village Shoppe.


Editor and Photographer - David Gosden.
News Gatherer and Coordinator - Jo Hart.
Proof Reader - Chris Hart


Copy Deadline - 25th of the month prior to publication.
Contributions (250 words max) accepted in Word, Works, rtf, plain text.
Photographs accepted in .jpg format.


Contributions towards production costs to Jo Hart at the Village Shoppe please.

You are visitor number
-

stats counter

---
Click HERE to download this edition
(This is a large pdf file and may take a while to download)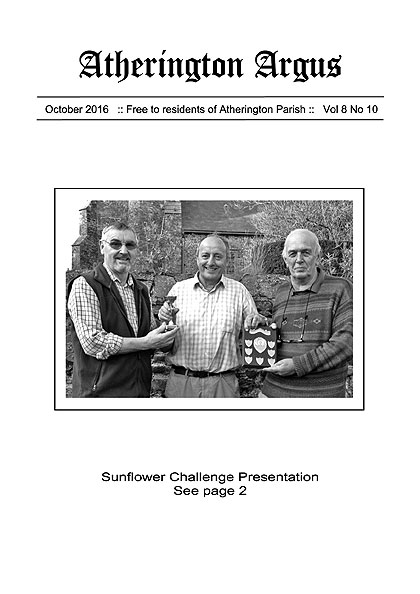 - If it's in Atherington - It's in the Argus -